Here are just some of the most common questions people in Fort Pierce, White City, St Lucie County, and Port St Lucie, FL have about makeup application with Always Perfect Permanent Makeup. Anything not covered here? Contact us today!
Is it safe?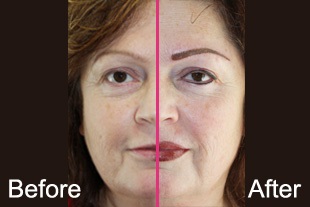 Linda has been practicing tattooing and permanent makeup since 1979. She operates a facility that is fully dedicated to makeup and ONLY permanent applications. This means that the air is not contaminated by chemicals, and hair or nail particles. The procedure room is carefully maintained in a clean sanitary environment. Single-use ink caps and sterile needles are used for each client and disposed of properly.
What is the aftercare?
No beach or swimming for one week. You should avoid exposure to the sun, heat, steam, saltwater, and chlorinated pools until healed. You will also use an after care product during your healing time.
NO KISSING FOR A WEEK! After the healing, the only "maintenance" necessary to keep your makeup fresh is to use moisturizer and sun block.
What should I expect right after it's done?
The area is approximately 40% darker for only 6-7 days while healing. Then there will be a fade in intensity and then you will begin to see the color develop after this time. This will take about 2-3 weeks. The entire procedure is then healed and complete within 4-6 weeks. At this time you schedule an appointment to fine-tune and touch-up any area of the skin that may have expelled the pigment. (This touch-up appointment is included in the price of the initial procedure). It also gives you the option if you would like to go darker or thicker with your procedure. It is Linda's way of making sure your new makeup is indeed ALWAYS PERFECT. Lips are always done in 2 settings.
What about allergies?
The client who is allergic to traditional facial makeup is a perfect candidate for makeup. It is very rare to have a reaction to the pigment. Anyone can develop an allergy to anything over time, however, Linda has been using the same pigments for many years and this has not been an issue.
Does it hurt?
There is a minor burning and a scratching sensation. This may vary according to each individual's pain tolerance. A topical anesthesia is generally used to alleviate most of the discomfort during the procedure. Also, Linda's many years of experience are a benefit in applying makeup permanently. Most people do not experience any significant pain from the application, just the burning or scratching.
Is it really "permanent?"
Pigment is deposited into the dermal layer of the skin, with the effect being more like a non-surgical face lift. It is essentially and unmistakably a form of tattooing, which is also referred to as "micropigmentation". Tattooing is an ancient and highly artistic occupation. The procedure will fade slightly over the years. This is due to dry exfoliating skin and the sun bleaching the color. Also, this effect is dependent on a person's lifestyle and the choice of colors used for the procedure. This, in effect, allows the makeup to age with you. It also gives you the opportunity to intensify the color or change the color if you desire.
Linda also keeps records of her customers on file. She offers her previous clients discounts for color re-fleshing or maintenance.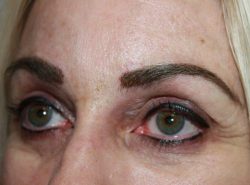 Does insurance cover medical tattooing for cancer patients?
We proudly carry an NPI number for medical tattooing of the areolas for cancer patients. To know more about it, read the article here.
Generations of Tattoo Artists: